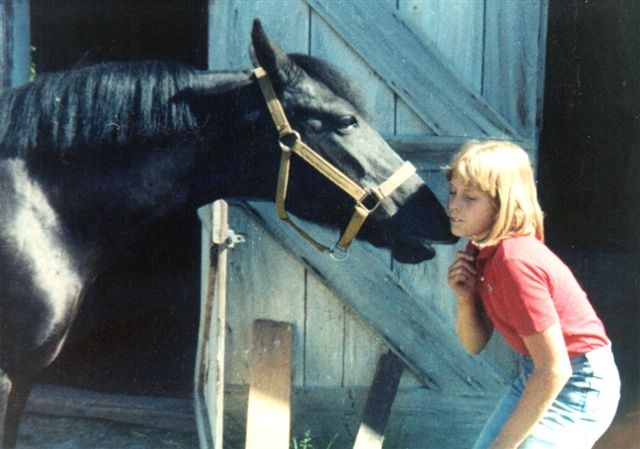 Amy and Velvet
How Reins of Change began…
For as long as I can remember, I have been officially horse crazy. I have always felt it was in my blood to be able to connect with horses the way I do. My mom had grown up on a farm with horses, and her father before her.
When my preschool went on a field trip to a local farm, I went straight to the pony pen, and there I stayed until we had to leave. I was hooked. I couldn't stop absorbing horse information. While on family vacations, all I cared about was where the horses would be.
My riding lessons were taught by Ella Cummings from Washington, Illinois. She finally told my parents that I was ready to have my own horse when I was seven. My father was teaching me the meaning of the word "motivated". I told him I was motivated to get a horse. He laughed and said that if I could get the money to buy one, he would pay the board. Those who know me would know that I would see this as an opportunity instead of as an obstacle! I worked so hard doing everything from shoveling snow for neighbors to selling my prized stamp collection to my friends at school!
Later that year I purchased "Velvet" for $500! (Ironically, she was being used to teach mentally challenged teenagers to learn about goals.) We boarded her at Ella's farm where there were about twenty horses. I spent all of my free time just hanging out with Velvet and the other horses. They changed my life.
My parents had a rocky marriage and I sought comfort from Velvet. I could feel the pain peeling away as I spent time with her. There were many long and quiet trail rides, just Velvet and me. When my friends were starting to chase boys and hanging out at the mall, I was out riding. When they were going out at night to parties, I was coming home exhausted after a long and wonderful day at the farm.
I entitled my fifth-grade science fair project "The Language of Horses". There were only three books in the Peoria public library on the subject at the time! I was given a second place as the judges told me, "Because it isn't really science". I told them if they knew anything about horses, they would understand that it is!
Do horses change lives? Absolutely! Where would I be today if I had not had my experiences with Velvet? I don't even want to think about it. But most important to me was the emotional strength that I received, (and I do believe that it was a GIFT), from the horses I spent so much time with on that farm. I knew each of those horses on an individual basis. They each had their own personality and moods, just like people. They all had their place in the herd, and I had my place too. This human child was right behind Ginger, the chestnut mare who was the BOSS!
When Velvet died a few years later, I was devastated. I still have her nameplate in my barn today. There's a piece of her mane that I keep in my tack trunk. That horse had really meant a lot me. After I grieved for Velvet and got past the guilt of even considering it, I told my mother that I was going to need either a therapist or another horse. My parents (oh-so-naïve) thought a horse would be less expensive.
We purchased Missy from a racetrack. The poor thing was so pathetic. Her ribs were sticking out from starvation. There was a lot of skin missing from her legs because she had been picked on so badly by the other horses. She had fleas and she was head shy. This was an abuse situation. But we took her home anyway, because I connected with her. I worked with her and she helped me to keep my mind off of my parents' divorce. We healed together.
My life at home was getting more difficult. My mother was beginning to work more, so I couldn't get to the barn during the week. Instead, I went out with my friends after school, sometimes drinking or smoking. On the weekends I would be at the barn by 7:30 a.m. and would stay until it was dark. I was able to forget my life at home and "just be". I was balancing a fine line between real trouble and survival. But my love for the horses was too strong. I would choose to stay home on a Friday night so I could wake up for my 8:00am Saturday lesson. Thank God for the horses!
When I went to college I couldn't take Missy with me. It broke my heart when had to sell her. I searched for any horses I could ride or work with. At school, I became very interested in psychological development. I taught a senior level Group Dynamics course for the Psychology department at my University. I also received certification as a sexual assault counselor. The local ropes course offered certification training, which I found to fit perfectly with my group facilitation skills, and my desire to explore the benefits of experiential therapies. I earned my bachelor's degree in Psychology and a minor in Sociology. I had an internship at a mental hospital, where I helped to facilitate group therapy sessions with chronic mentally ill patients, both inpatient and outpatient. I was also working at a stable, training polo ponies and learning to play polo! Then, I married my college sweetheart and moved to Aurora, Illinois. I got a job as a human resource administrator for a large company. I was not around horses, and not happy about it.
Suddenly, I found a brochure from a local college in my mailbox. It offered classes for the American Riding Instructor Association certification program, Horse Industry Management and Horse Psychology! I then opened another catalog to a page where a sign said, "It's never too late to be what you might have been!" It was a pivotal moment for me! I enrolled in all three classes. The next thing I knew I was working three nights a week and weekends at this stable, as well as taking the classes. I was in heaven. Ella, my mentor, thought it was great that there were actually classes you could now take for these subjects! But something was still missing. I started training horses for a man at the stable who turned out to be a realtor. I trained for him and he looked for my horse property. The people at my "real job" said I was dreaming. I told them I was motivated.
Finally, we found our new home in beautiful St. Charles, Illinois. Horse #1 was a gift from my mom. My dream of having horses in my backyard had come true! I was 29 years old and it was a new beginning for us. We had baby #1. Yet, something still was not right. How could that be? We were so happy and yet I was not complete. I felt so guilty feeling that way. Horse #2 arrived and I started to teach horseback riding lessons. I loved working with the kids and sharing my horses with them. I could see the emotional benefits in them all. 90% of the lessons seemed to be therapy, especially when the rider wasn't even on the horse. I called the program Reins of Change. My horses were changing the lives of these children….
I took a certification class in animal assisted therapy. I was trying to figure how I could get this to work with horses. I joined the Junior League of Kane and DuPage Counties. My volunteer training for youth at risk in our community really got my attention. I helped to develop a project at Glenwood School in St. Charles. It is a residential and educational facility serving at-risk boys from underprivileged, single-parent homes. I accepted a Board position. Baby #2 arrived.
I took one of my horses to a farm near Glenwood School so the boys could learn about horses. I watched them as they ran around in the pasture chasing a herd of ponies. They all worked together to catch a pony and then let it go! It was hysterical and yet eye opening for me. Each boy played a different role in this "game". It gave me insight as to how to better work with some of them later during our mentor sessions. We planned to do this some more.
A neighbor of mine approached me with information about EAGALA. She thought I might be interested because of my educational background and my horse experience. I couldn't believe it! I went to a Level I training and knew that this was it for me. I enlisted a friend who is a therapist and worked with some of my riding students who had more serious issues like depression, anger and low self-esteem. We were so exited about our results! I went to the Level II training in Utah, and became the first in Illinois to achieve this level of training. That winter, I nursed a horse with a broken leg back to health. Let me tell you, even a horse with a broken leg in a stall can be therapeutic to a client! I felt guilty even charging for my client to just stand there and brush the horse, but that was what he needed to do at the time. He was dealing with his own feelings of being trapped with no one to nurture him.
Baby #3 and horse #3 arrived within six weeks of each other. They have both brought me great joy. My herd was growing. I should have put that on the birth announcements!
It wasn't long before we needed to move Reins of Change to a larger property with a bigger barn. We built an indoor arena with over 10,000 square feet, large enough to offer activities for families and groups, as well as individuals. Our network of highly qualified therapists and counselors, as well as other qualified equine specialists grew, and we spread the word about our therapy, and EAGALA. More horses (and ponies) soon arrived, and our barn was full!
In November, 2003, I attended the first Level III certification training and am happy to take on a new role as mentor to the many, many people out there who are interested in the field of Equine Assisted Psychotherapy and EAGALA. We offer an Open Barn once each month for interested mental health professionals, horse people, prospective clients, students and anyone else who wants to stop by to see the facility and meet some of our staff members (the horses are included). We plan to will continue to develop as a regional training and information center for EAGALA and it's associates.
In March, 2004, I was elected to serve on EAGALA's Board of Directors. Since then I have held many different roles and been proud to assist the organization with its unprecedented growth. It has been an honor to serve with the other Board members to assist in the management of EAGALA and to represent its members.
Reins of Change is very proud to continue to host annual certification trainings by EAGALA at our facility. Up to 80 people usually attend this event from all over the world! It is a great time for everyone to network, learn, and grow.
Within our therapy program, we work with a wide variety of individuals and groups from all over Kane, DuPage and other Chicago area counties, and some clients come from other states as well.
We specialize in the treatment of eating disorders, addiction, attention deficit disorder, behavior disorders, depression, post-traumatic stress, grief, anxiety and other mental health issues. Programs are individually designed for individuals, groups, families, schools, hospitals, residential programs, court services, corporations and teams.
I am so very proud of our staff and what Reins of Change has become. The clients we serve are finding life-altering moments in our barn with our horses, and we are thankful for our EAGALA training which has prepared us for this work. We look forward to making many future contributions to the growth and development of EAGALA, and the field of Equine Assisted Psychotherapy.
Ella Cummings is now 91 years old, and continues to live on her farm in Washington, Illinois. She is still my mentor. Most of the horses I knew there have passed on, but she has managed to collect some more. She gives me guidance when I need it. She laughs when I talk to her about EAGALA and says she always knew horses were emotionally therapeutic. It's about time people started to figure that out!
We can all be heroes in our own lives…
Update… December 1, 2009
As we approach a new year, I realized that I have avoided updating this page since Ella sadly passed away. Ella died in her sleep at home, surrounded by her loving family and probably a million angels. Her home was sold to a young family, who I hope realize how wonderful that farm truly is! I miss being able to stop out for a visit and to reminisce about the good old days on the farm as kids. We considered purchasing the farm ourselves, but we had just moved to our current location and were about to break ground. We decided that our mission would be more effective if we stayed in the Chicago suburbs, and that we could continue to spread the word about the valuable work of EAGALA.
A lot has happened since 2005! We put our farm on the market in hopes to move to the southwestern suburbs and be closer to one of our hospital programs. Apparently, God had a different plan for us. We put an offer on one property after another. We couldn't compete with contractors with cash who could close in 48 hours. It was a pretty discouraging time, but I felt that whatever was meant to be would happen. We hadn't sold our house after 6 months, and we made a decision as a family to remain in our community. We loved it here, and it seemed that we were meant to stay after all. About a month after we took our house off of the market, our agent called. There was a buyer who really wanted our house, and we needed to decide whether we would sell it to them, and were required to have a contract on a new property within 48 hours or lose the buyer. We decided we would sell as long as we stayed in our area. We considered the three options of farms for sale within our community, and had a whirlwind of two days of consideration. One of the farms was actually on the same side of the same street, and it felt right. Within two months, we moved to the larger, 15 acre farm. The house needed a lot of updating, and a lot more room. There was no barn or arena…only a tiny shed which was smaller than a single stall. We set up a few round pens and shelters, and broke ground for the new facility! Another Morton barn was in the plans…with a large meeting/group room, eleven stalls, paddocks, pastures, and room to grow! We planted our hay in what used to be a corn field, and got started on the house. (yes, the barn did get started first!)
We currently have 8 horses and 3 ponies. This is the perfect size for our herd. We started renting space at another barn in Plainfield a year ago, to better serve that area. We also have a mobile unit (a horse trailer with equipment for our program), which goes to residential treatment centers, schools, camps, and anywhere else we are invited. As we continue to grow, new staff come to our program to offer their skills and expertise. The team approach applies to everything we do here, and everyone is a team player.
I am still on the Board of Directors for EAGALA. Last year, I completed my term as the Chairman…and now I am the immediate past chair. It has been an honor to be a part of EAGALA through so much positive change and development. I am thankful to have had the opportunity to have served EAGALA through the years.
We host up to 2 Part I and 2 Part II trainings each year for EAGALA. It is wonderful to be able to share our information with new attendees, and to welcome back returning folks who are continuing their education in EAP/L. If you have not been to EAGALA's website in a while, check it out at www.eagala.org. In my professional opinion, no other organization out there has the same level of professionalism and high ethical standards in EAP/L training, education, and certification.
Please check back for more updates! Amy Blossom