Equine Assisted
Psychotherapy (EAP)

Equine Assisted Learning
(EAL)

Corporate Training and
Development

Professional Education

Horsemanship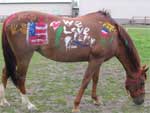 ".. and I whispered to the horse; Trust no man whose eyes you do not see yourself reflected as an equal."
Don Vincenzo Giobbe
circa 1700
Programs at Reins of Change are individually tailored to provide services for individuals, groups, families, teams and corporations. Certified equine specialists and licensed mental health professionals partner in therapy teams to provide our services. Services range from team building to treating mental illness. Our conveniently located, state-of-the-art indoor stable and arena, together with pastures and a beautiful country setting make Reins of Change the ideal environment for change to occur.
Equine Specialists and Therapists at Reins of Change are certified by the Equine Assisted Growth and Learning Association (EAGALA). Amy Blossom, director of Reins of Change, and Brenda Hunter are the only facilitaors in the state of Illinois to be given Advanced Certification. There are only 25 people in the world with this level of training and expertise in providing equine therapy.
Our programs are individually tailored to meet each individual family, group or corporation's needs. Equine Specialists at Reins of Change work with mental health providers who specialize in particular areas. We provide services for eating disorders, anger management, self injury, ADHD, addiction, anxiety disorders, depression, grief, OCD, PTSD, and other mental health issues.
Tours and open barn dates; By Appointment Only! Please call or e-mail for availability.