Equine Assisted Learning

Corporate Training &
Development


Horsemanship Riding
Lessons and Camps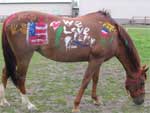 ".. and I whispered to the horse; Trust no man whose eyes you do not see yourself reflected as an equal."
Don Vincenzo Giobbe
circa 1700
Riding Lessons
A unique and comprehensive educational opportunity featuring the history of horses, horse breed knowledge, physiology, safety around horses, exercise, grooming, food and feeding, equipment knowledge and care, lunging, exercise in the saddle, riding with others, trail riding, riding on the road, rules of showing, horse psychology, horse behavior management, selecting a horse or pony, and stable management. Reading materials will be distributed or recommended for home study.

We specialize in starting new riders in a safe, caring, non-competitive environment. Horses have an amazing effect on people. Develop confidence, self esteem, problem solving skills, and listening skills. Learn how to groom, saddle and ride.

Riding lessons are appropriate for ages 6 and up.
Horsemanship Camps
We specialize in starting new riders in a safe, caring, low-competitive environment. Our riding instructors are experienced, highly trained horse professionals who realize their important roles as mentors to camp participants. Each camp session is limited to 8 participants to ensure personal attention, a high-quality experience and a safer environment! This camp is not part of our therapy program, please refer appropriately.
Your child will have the opportunity to:
Learn all abut horses…care, grooming, basics of riding, games on horseback and more!
Develop positive attitudes, confidence, self esteem and problem solving skills
Enjoy horse related games, crafts, snacks and activities with new friends
Receive a personalized grooming bucket with brushes, hoof pick, and other fun items!
Experience what it feels like to have "their very own horse" during camp session.
Participation in the Reins of Change- Team ROC Rodeo at the end of each session!